Welcome to NH's Largest American Legion Post
To all Members and Friends of Henry J. Sweeney Post #2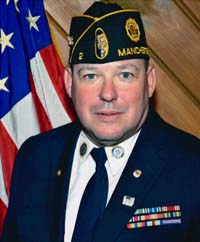 The time is upon us, as we are now celebrating the 100th year Anniversary of the American Legion and Henry J Sweeney Post 2. Congratulations to our Past National Commander James F. O'Neil, all our past State Commanders, past Post Commanders and Officers. We wouldn't be where we are today without their great leadership in the past years. Thank you to the Auxiliary and Sons of the American legion, because a lot that goes on at the post could not be accomplished without their help.
The past 100 years has brought us a lot of great achievements here at Sweeney Post.
Our past and current Sergeant at Arms, have been on top of making sure Sweeney Post Honor Guard
attends and represents the Post for all the local parades and Memorial Day honors throughout Manchester, while firing Volleys at all Memorial Squares in the city on Memorial Day.
Sweeney Post Baseball has brought us many State Championships and has gone on to National Tournaments and have also become National Champions. All this thanks to a great Baseball Committee, Athletic Directors and coaching staff for all of those years. Fund raising and support from members and player families have made this program a huge success and It still thrives today.
Our historical traditional events here at Sweeney Post have brought in our members and guests time and time again. Our annual Mother's Day breakfast, Surf and Turf Dinner, Turkey Shoot, Thanksgiving Day
breakfast, Saturday night Dances and countless other events over the years, have made the Post, "The Place to Be."
As we move forward into the next 100 Years, let us not forget the past but remember the hard work and dedication it takes to move forward as we continuing to uphold our 4 pillars: Americanism, National Defense, Veterans Affairs and Rehabilitation and Children and youth.
We will continue to make all of these Pillars how and why we operate on a day to day basis. We should also emphasize and pass this on, by mentoring all of our new incoming, Legion Family Officers and Members. Reminding them that we should all walk with broad shoulders and offering at some insight on why we exist. Our Legion Family Ancestors will gladly look down upon us as we pave the way to another 100 years of service to our Community, State and Nation.
Our newly established Legion Riders will move forward continuing to find new ways to bring in new members with a common goal of making Sweeney post a great place to be.
Thank you all for Celebrating our 100 Anniversary with us and remember this everyone, membership drives us and lets us thrive upon making and remaining to be "The Largest American legion Post" in the state of New Hampshire.
In comradeship,
Norman Gravel
Commander
Henry J. Sweeney Post #2
Winter Cribbage League

When: Every Wednesday
Time: 4:00 PM
Cost: $5.00
Prizes: Paid every week
How do you join? Just show up at the Post on any Wednesday that you want to play. No obligation to attend each week.
Who can play? Anyone can play. You do not have to be a member of the Post or even a Legion member. All are welcome!
For more information, contact:
Dave Quinn – (603) 361-7033