The 2018 season marked the 88th anniversary of Nation competition in the American Legion Baseball Program. The program was founded in Milbank, South Dakota on July 1925. It soon became a National Program and the first tournament was held in 1926 with sixteen states represented. There was no national tournament in 1927 because of economic reasons.
In 1928, according to the State Adjutant Frank N. Sawyer, about 50 junior baseball teams were playing under sponsorship of the American Legion. After representatives teams had been selected, including the Manchester American Legion Team, District and State championship tournaments were to follow. Every team was required to furnish birth certificates showing no player above the age limit of 16. The Manchester Legion Team under the certification of Henry J Sweeney Post #2 won the State championship defeating Concord by a score of 6-2 at Concord.Mike Flanagan.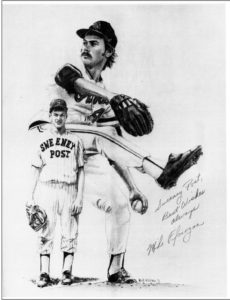 Since 1929 and up to the present time, Henry J Sweeney Post has sponsored a team. During this time span, Sweeney has amassed a total of 29 state championships and has competed in 5 Legion World Series.
There are of course many stories of athletic accomplishments by our young players who have participated and are too numerous to single out. Some of our coaches and players who have reached the ultimate dream of playing in the "Major Leagues" are Tom Padden, coach, Bob Savage, player and coach Ray Dobens coach and players Mike Flanagan (left), Steve Balboni and Mike Lavalliere.
The name which has been and will always be synonymous with Sweeny Post Baseball is John "Jumbo" Reilly. In his 36 years of coaching he was successful in leading his team to 14 State Championships and participation in 3 Legion World Series.