Welcome to NH's Largest American Legion Post
To all Members and Friends of Henry J. Sweeney Post #2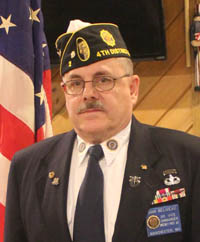 Commander Beliveau sends congratulations to immediate Past Commander Norm Gravel on exceeding our goal of 1147 members and attaining a current membership of 1156 members! We still have until December 31, 2018 to retain more 2018 members, so do not stop recruiting.
Commander Gravel wants to thank all who contributed to this effort and in light of losing 62 members to the "Eternal Post", the Post and its members were still up to the task in helping us make our goal.
Commander Beliveau and Past Commander Gravel are encouraging all members and officers to support "Project 1400".
"Project 1400" is an effort to attain a membership total of 1400 members for the 2019 membership year.
We have the 2019 membership cards at the Post and all 2019 membership dues are payable by December 31, 2018. You can come to the Post, pay your dues, sign your card, get an "Early Bird" stamp on your card, get your card laminated and also attend the "Early Bird" dinner on October 27, 2018 and dine and dance for free. Guest $10.00. And while you are paying your dues pick up and application and recruit a new member.
Here is what needs to be done. We will need all the officers, E Board and all members of the Legion, Auxiliary and SAL on board for this endeavor. We will be contacting veterans in the area by knocking on doors, approaching drivers with veteran plates and through various forms of media. But, most of all, we need the individual member to be our best recruiter. We have incentive awards for members who attain three or more members, twenty-five members and fifty or more members.
If you see a person with a veteran's ball cap, shirt, jacket, a service flag at their residence etc. please approach that veteran and ask that veteran to join. Surely you have relatives, coworkers who are veterans, don't be shy, ask them to join. One study states it can take anywhere from seven to twelve efforts to get one to join. We have the applications and brochures at the Post. Every Legionnaire should have an application with them at all times.
As Commander I will be working with Senior Vice Commander Remick, our membership guru, in setting a date to have an organizational meeting in the near future.
There is strength in membership and numbers count, now we are counting on each and every one of you to make our goal.
Retain, renew, reinstate and recruit.
In Comradeship,
Dan Beliveau
Commander
God Bless all who have served and continue to serve and God continue to bless the Greatest Country in the world!
Winter Cribbage League

When: Every Wednesday
Time: 6:30 PM
Cost: $5.00
Prizes: Paid every week
How do you join? Just show up at the Post on any Wednesday that you want to play. No obligation to attend each week.
Who can play? Anyone can play. You do not have to be a member of the Post or even a Legion member. All are welcome!
For more information, contact:
Dave Quinn – (603) 361-7033